Someone needs to explain to me how your weight can stay exactly the same? I somehow consumed the exact amount of calories that I burned? Well pin a rose on my nose as I must be a calorie-math-magician. I was hoping for at least one pound with my glorious dinner at Victoria and Albert's this Saturday>>>>>>>>TOMORROW!!! But let's talk about this week.
I really was a bit surprised that the scale didn't move. (Though I did forget to take off my glasses when I weighed in so maybe I lost .1) I didn't munch on Easter Candy, heck I didn't even make dessert last Sunday. Admittedly dinner was a bit glorious but I figured that into my extra weekly points. Even brunch was low in points.
I think I finally need to embrace the fact that I have to get more active. There's no getting around the fact that I simply don't move enough. Next week my morning schedule is changing and I am going to be forced out of the house for almost an hour Mon-Fri so I'm thinking of using that time for walking. Nothing too intense just walking 30 minutes out then back to school.
Though I really can't see any walking making a difference next week at the scale after my 10 course meal Saturday night and lunch Sunday at the German buffet in Epcot but maybe I can at least minimize the damage.
Last week I told you we were starting Meatless Mondays. One thing I've learned very quickly that if you don't want to simply have soup or salad these meals tend to take planning. Can you tell I got caught behind the dinner bell this week. However I was able to find a meal that only took 15 minutes to put together and was a huge hit.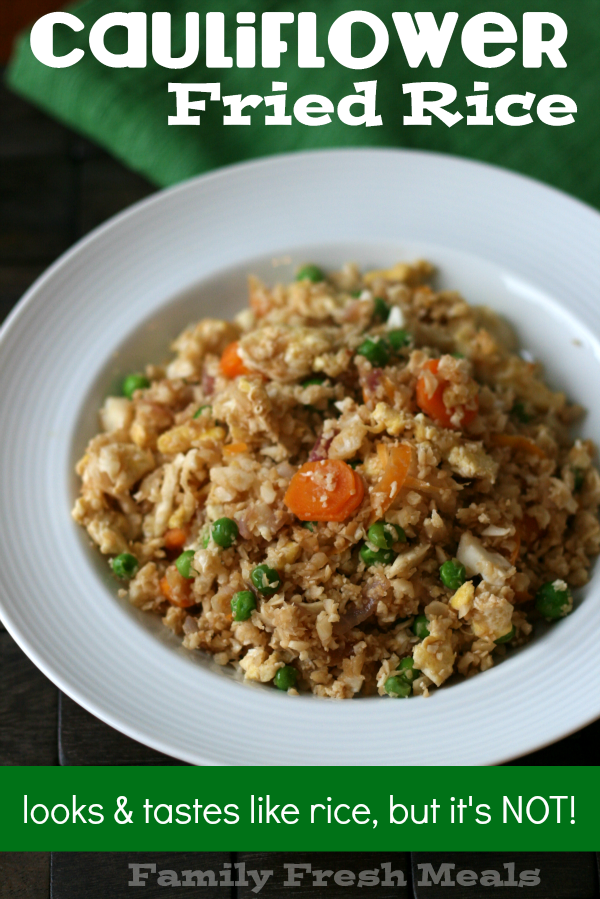 This recipe is from
Corey at Family Fresh Meals
. She calls it Cauliflower Fried Rice I think she should rename it to Fake-Out Fried Rice as you wouldn't know the rice was missing if you weren't told. In addition to being tasty it is incredibly easy and outside of cauliflower you probably have all of the ingredients in your kitchen to begin with:
Frozen peas (1/2 cup)
Carrots sliced or shredded (1/2 cup)
Diced Onions (1/2 cup)
Garlic Cloves (3)
Eggs (2)
Soy Sauce (3T)
as for the Cauliflower you need 3 cups grated.
Hint: If you want your family to believe it is rice and not cauliflower I suggest that you don't use green or purple cauliflower (which of course is what I had in the house)
Corey
included step by step pictures with her recipe,who doesn't love that!
Wednesday is our new salad night. This past Wednesday salad was the last thing you'd think of having for dinner as it was a cold, damp and rainy day (April showers do bring May flowers). So looking to keep things fairly light yest tummy warming I whipped up some homemade tomato soup, and served it with a light salad and Grilled Cheese croutons. Here's the funny thing that I discovered. I wound up making 6 Grilled Cheese sandwiches that I cut into bit-size pieces. I put the pieces in a large bowl. Normally if you're severed Tomato Soup and a Grilled Cheese Sandwich more than likely you're going to eat that entire sandwich. There were 5 of us for dinner Wednesday and I couldn't believe how many croutons were left over. I really believe it goes with the concept of smaller plates and your eyes think you have a lot of food. Instead of using soup-plates like I normally would I served the soup in deep bowls. Everyone had the same amount of soup as usual (2 ladles) but I think because there was less "surface area" less croutons were used. I had 2 teenage boys who had seconds and I would guess there were 2 sandwiches' worth of croutons left.
Here's my quick Tomato Soup Recipe:
2 large cans crushed tomatoes
2 T butter
2 T Flour
1 c Milk
1/2 onion diced
1/4 c sherry
1+ can water or milk depends on how thick you like your soup
Herbs De Provence
Salt and Pepper
Super easy: Soften onions in melted butter. Add Flour to make roux. Add milk stir til thickened. Add sherry stir til thickened. Add tomatoes and liquid. I babysit my soup as it can over boil quite quickly which is nasty for any roux based soup. The seasonings are my preferred but hey whatever floats your boat. Whole process shouldn't take more than 15 minutes and so much better than anything condensed.
Next week I'll share all of the wonderful yumminess from Victoria and Albert's. OMG I can barely stand it!!! (Yes, I am well aware that I have issues)