I don't give much credence to New Year's Resolutions, never have never will. I do however believe in Goals. I've not mentioned my weight loss journey in a while and it is high time we got that puppy back on track. So to steal a line from
Lewis Carrol's Through the Looking Glass ~
"The time has come," the Walrus said,"To talk of many things:
Of shoes—and ships—and sealing-wax
Of cabbages—and kings—
And why the sea is boiling hot
And whether pigs have wings."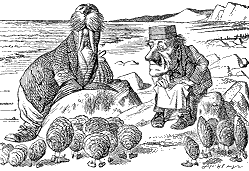 So the time has come to talk about my Weight Loss and 2014. Last month Weight Watchers rolled out a new addition to their Points Plus 360 program, Simple Start. Simple Start was designed to help members by removing a lot of the guess work. There's no counting points, just Simple choices to be made. The program is based on their Simply Filling option that members already had.
Well folks even though I've been a WW member since June 2012 I'm Simply Starting over. I especially like the "no measuring" that comes with this program. Not measuring or weighing foods works,especially in our house with all of the other food/eating disorder issues going on. Portion control is something I struggle with so knowing I can have all that I want of the options presented ROCKS
There is a new mobile App to go along with the program to make things even easier. I have to admit that once I read the program the app made more sense. Another major plus is that every day the program expects you to have indulgences. They have provided indulgence examples of just about any food you can think of including chocolate and alcohol. IF you don't want to use fat-free mayo (like me) you can use one of your indulgence points, and this is the only place you'd need to count points.
So my goals for 2014 ~ I'd like my weight loss total to hit 100 lbs
Short term goals:
April 8th 15 pounds (10 pounds): Our 25th with Celebrations in Disney
May 1st 20 pounds: (15 weeks) Not sure when Son's going to Marine Boot Camp but don't want him to be embarrassed by having the heaviest mom at graduation
June 1st. 25 pounds: (20 weeks) I have a wedding June 14th that Em's in and I want to be able to shop for my dress and have multiple options
July 21 30 pounds: (27 weeks) 6 weeks after the wedding we're planning a 10 day trip through DC/NY/VA to see friends and I'd like to be comfortable taking lots and lots of pictures.
Remember always be glorious